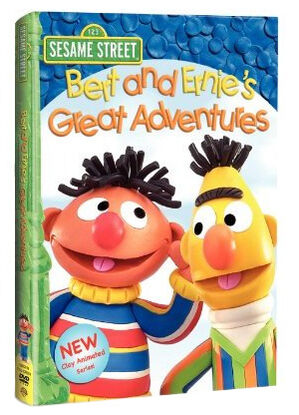 | | |
| --- | --- |
| Release Date | April 6, 2010 |
| Produced by | Warner Home Video |
| Catalogue no. | SS00188 |
| Format | DVD |
| Discs | 1 |
| Region | 1 |
| ASIN | |
Bert and Ernie's Great Adventures is a Sesame Street DVD released in April 2010.
The DVD is a compilation of 13 five-minute "Bert and Ernie's Great Adventures" segments, which began airing on Sesame Street in Season 39. If "Play All" is selected, the opening only appears at the beginning of the program, but the opening appears before each sketch if selected individually. Each segment also begins with the segment's title appearing.
This is the first full compilation of Great Adventures segments released in the United States. (A compilation of 13 Great Adventures segments was released in the United Kingdom in 2009, Bert and Ernie's Great Adventures: Pirates and Other Stories.)
Segments
External links
Ad blocker interference detected!
Wikia is a free-to-use site that makes money from advertising. We have a modified experience for viewers using ad blockers

Wikia is not accessible if you've made further modifications. Remove the custom ad blocker rule(s) and the page will load as expected.