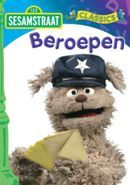 Beroepen (Jobs) is a Sesamstraat DVD released in 2007, as part of Weton Wesgram's Sesamstraat Classics collection.
Segments
Verkeer
Werken als het donker is
Groenteman (roep een beroep)
Postbode
Liedje: liftolifant
Sesamstraat politie
Als ik groot ben
Dr. Livinstone neem ik aan?
Liedje: mijn broer
Groot worden
Toeterende clowns
Even bellen (letter B)
Grover: fitness instructeur
Geld
Ad blocker interference detected!
Wikia is a free-to-use site that makes money from advertising. We have a modified experience for viewers using ad blockers

Wikia is not accessible if you've made further modifications. Remove the custom ad blocker rule(s) and the page will load as expected.