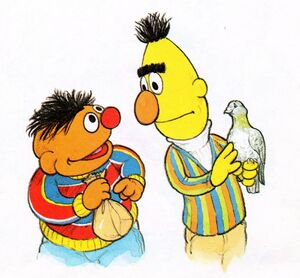 Bernice is Bert's pet pigeon on Sesame Street. Bert has taught her to checkers (though she only beat him twice out of ten games).
In contrast to the various Muppet birds on Sesame Street, Bernice is played by a real pigeon. How many different pigeons have played the role over the course of the series is unknown. She also figures as an animated character in Bert and Ernie's Great Adventures.
Trivia
Book appearances
Ad blocker interference detected!
Wikia is a free-to-use site that makes money from advertising. We have a modified experience for viewers using ad blockers

Wikia is not accessible if you've made further modifications. Remove the custom ad blocker rule(s) and the page will load as expected.