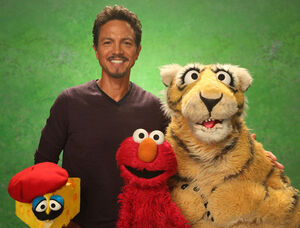 Benjamin Bratt (b. 1963) is an American actor best known for his role as Detective Rey Curtis on Law and Order. He's also appeared in such films as Miss Congeniality (with Sandra Bullock) and been heard in Cloudy with a Chance of Meatballs.
Bratt appears in a season 44 episode of Sesame Street, talking about the word "translate" with Elmo.
Ad blocker interference detected!
Wikia is a free-to-use site that makes money from advertising. We have a modified experience for viewers using ad blockers

Wikia is not accessible if you've made further modifications. Remove the custom ad blocker rule(s) and the page will load as expected.