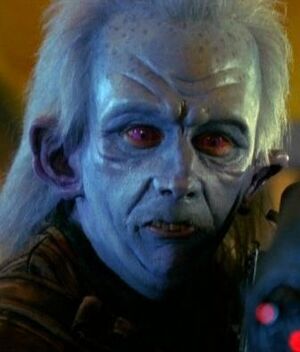 Ben Mendelsohn (b. 1969) is an Australian actor, who first rose to prominence in Australia for his role in The Year My Voice Broke (1987) and internationally for his role in the crime drama Animal Kingdom (2010). Since then, he has played roles in The Dark Knight Rises (2012) as John Daggett and Rogue One: A Star Wars Story (2016) as Director Orson Krennic. Mendelsohn stars in the Netflix series Bloodline, for which he has won a Primetime Emmy Award for Outstanding Supporting Actor in a Drama Series.
Mendelsohn played Sko, an alien crook, in the Farscape episode "I-Yensch, You-Yensch."
Ad blocker interference detected!
Wikia is a free-to-use site that makes money from advertising. We have a modified experience for viewers using ad blockers

Wikia is not accessible if you've made further modifications. Remove the custom ad blocker rule(s) and the page will load as expected.