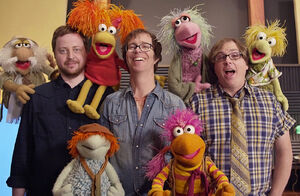 Ben Folds Five is an alternative rock trio which formed in 1993 in Chapel Hill, North Carolina. The group is comprised of Ben Folds (keyboards, lead vocalist and songwriter), Robert Sledge (bass), and Darren Jessee (drums).
The band went their separate ways in 2000, but regrouped twelve years later to record a new album, The Sound of the Life of the Mind. A music video of the single "Do It Anyway" features the six main Fraggles (Gobo, Mokey, Red, Wembley, Boober and Uncle Traveling Matt).
External links
Ad blocker interference detected!
Wikia is a free-to-use site that makes money from advertising. We have a modified experience for viewers using ad blockers

Wikia is not accessible if you've made further modifications. Remove the custom ad blocker rule(s) and the page will load as expected.