Written by
Jeff Moss
Date
1982
Publisher
Festival Attractions, Inc.
Backfin Music Company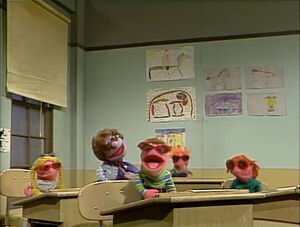 "Bells" is a Sesame Street song about all the different kinds of bells which ring during the day, including alarm clocks, telephones, school bells and doorbells. It is sung by Anything Muppets wearing sunglasses, with the lead singer performed by Jim Henson.
The song was also performed on the "Bell Channel" in Elmo's World: Bells.
Notes
The song's writer Jeff Moss also supplies backing vocals. He can be heard scatting the refrain "a-ding a-ding ding dong a-ding a-ding a-ding dong." Fran Brill also performs the mother.
One of the AM children seen in the classroom is Betty Lou.
Releases
Online
Other