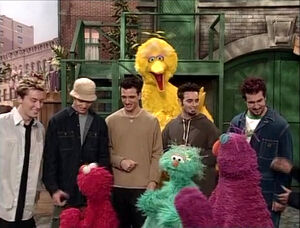 "Believe in Yourself" is a Sesame Street song of encouragement. The central message of the song is that you can be or do anything you want if you just believe in yourself. Even when other people doubt you can do something, or say you are crazy, you should believe in yourself and not get too scared to try.
The song has been performed by Luis, Jelani, the Neville Brothers, *NSYNC, Diana Ross, Ray Charles and the Sesame Street cast, and as a trio between Bob, Gordon, and Susan. The song was also featured in the Sesame Street Live stage show Super Grover! Ready for Action.
Don Boni performed the song in the opening scene for a 2005 episode of Plaza Sésamo. Michael Buble sings the song in season 45 with tuxedo-clad Elmo, Abby and Murray Monster. (First: Episode 4513)
Releases
Audio (Luis' version)
Audio (Bob, Gordon and Susan's version)
Audio (NSYNC's version)
Audio (Sesame Street Live version)
Video
Online
Publications
Ad blocker interference detected!
Wikia is a free-to-use site that makes money from advertising. We have a modified experience for viewers using ad blockers

Wikia is not accessible if you've made further modifications. Remove the custom ad blocker rule(s) and the page will load as expected.