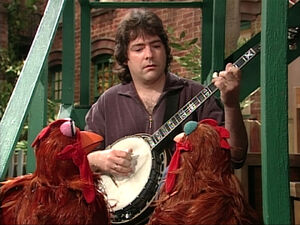 Béla Fleck (b. 1958) is a Grammy Award-winning banjo player famous for performing in several genres of music, including country, pop, jazz, bluegrass, classical and folk. As a soloist, and with his group The Flecktones, he has performed with the likes of Dave Matthews Band, Evelyn Glennie and Joshua Bell.
He appeared on Sesame Street in a segment introduced in voice-over by Count von Count to play the "rarely performed" so-called "Concerto for Banjo and Two Chickens: Pluck and Pluck" (which is actually "The Blue Danube" waltz by Johann Strauss II). (EKA: Episode 3842)
He also appears with the same two chickens in a celebrity montage of "Sing."
Ad blocker interference detected!
Wikia is a free-to-use site that makes money from advertising. We have a modified experience for viewers using ad blockers

Wikia is not accessible if you've made further modifications. Remove the custom ad blocker rule(s) and the page will load as expected.