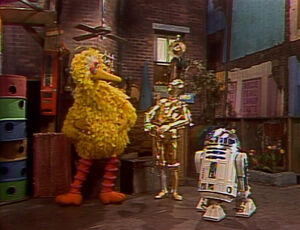 Two Anything Muppets discuss how to learn numbers in the song "Beep". The first character (voiced by Northern Calloway) has learned that he can beep for each number to keep them straight; one beep for the number one, two beeps for two, etc. For each beep he says, a circle appears at the top of the screen. The second character (performed by Jerry Nelson) keeps asking about bigger and bigger numbers and begins to beep along; eventually both characters are beeping nonstop and the circles fill the whole screen.
C-3PO and R2-D2 later sang the song in an insert with Big Bird using the same music as the Anything Muppet version. In a Play With Me Sesame scene, Prairie Dawn sings the song with the viewer and Grover.
Releases
Audio
Video (Big Bird, C-3PO and RD-D2 version)
Online
Ad blocker interference detected!
Wikia is a free-to-use site that makes money from advertising. We have a modified experience for viewers using ad blockers

Wikia is not accessible if you've made further modifications. Remove the custom ad blocker rule(s) and the page will load as expected.