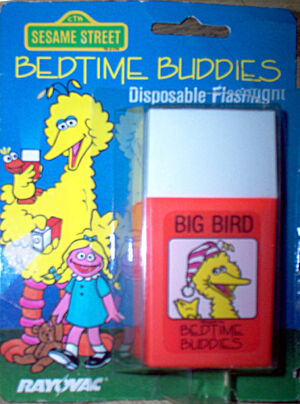 In 1987, Rayovac produced a set of Bedtime Buddies Disposable Flashlights with Sesame Street character graphics. These small, lightweight flashlights measure 4 inches long, by 2 inches wide and 1 inch thick. It is not possible to replace either the batteries or the bulb. At least two designs were created -- one featuring Big Bird and the other with Ernie and Bert. The characters are portrayed in night-caps.
Ad blocker interference detected!
Wikia is a free-to-use site that makes money from advertising. We have a modified experience for viewers using ad blockers

Wikia is not accessible if you've made further modifications. Remove the custom ad blocker rule(s) and the page will load as expected.