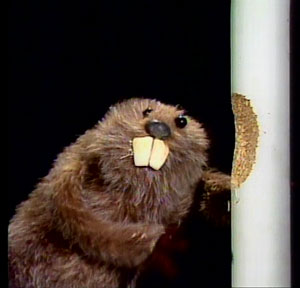 Beavers have been featured in several Muppet productions.
Harvey Beaver is a featured character in Emmet Otter's Jug-band Christmas, which also included some unnamed background beavers.
Beavers were part of the Woodland Animals seen from time to time in the later seasons of The Muppet Show.
A beaver, performed by Jim Henson, debuted on The Muppet Show in episode 217, where he cut down the flagpole where Gonzo was playing the bagpipes to Eine Kleine Nachtmusik.
A beaver named Morton the Beaver was featured on Episode 118 of The Animal Show.
Ad blocker interference detected!
Wikia is a free-to-use site that makes money from advertising. We have a modified experience for viewers using ad blockers

Wikia is not accessible if you've made further modifications. Remove the custom ad blocker rule(s) and the page will load as expected.