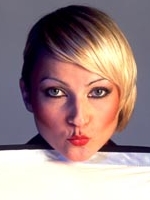 Beata Wyrąbkiewicz is a Polish voice actress who dubbed Prairie Dawn on Bawmy się, Sezamku (Play with Me Sesame) and Ojo on Niedźwiedź w dużym niebieskim domu (Bear in the Big Blue House).
Wyrąbkiewicz performs in musical theater, including the Polish versions of Grease. Her dub resume includes such cartoon roles as Minnie Mouse, Barbie, Kessie on The Book of Pooh, Suzy on Johnny Bravo, and Shock in The Nightmare Before Christmas. She has also dubbed actresses in live action family movies, such as Glynis Johns in Mary Poppins and Julie Winter (as Veruca) in Charlie and the Chocolate Factory.
External links
Ad blocker interference detected!
Wikia is a free-to-use site that makes money from advertising. We have a modified experience for viewers using ad blockers

Wikia is not accessible if you've made further modifications. Remove the custom ad blocker rule(s) and the page will load as expected.