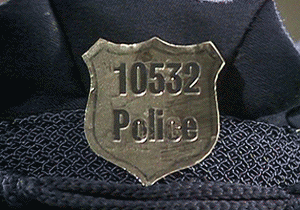 Bear on Patrol is a recurring sketch on The Muppet Show featuring Fozzie as Patrol Bear and Link Hogthrob as his Police Chief. These sketches ran from the third to final season of The Muppet Show.
Merchandise for Patrol Bear includes an action figure manufactured by Palisades Toys, and a figure in the third series of Muppet Minimates.
Sketches
The Muppet Show Season 3
Picture
Theme / Episode
Description

Impersonating an Officer

---

Episode 318: Leslie Uggams
Patrol Bear has arrested a pig who does impressions of police officers. The Chief is too busy typing a report to see that Patrol Bear accidentally locked himself in the cell instead of the criminal. And when Patrol Bear says that he's locked in, the Chief thinks that the criminal is just doing an impression of Patrol Bear.

Assaulting an Officer

---

Episode 321: Roger Miller
Patrol Bear arrests a pig who assaulted him, and the assailant gives the Chief visual details of the assault.

Bullets Barker

---

Episode 322: Roy Rogers & Dale Evans
Patrol Bear is a deputy, and the Chief is a sheriff--whom Bullets Barker is after.
The Muppet Show Season 4
The Muppet Show Season 5
Other Sketches
Picture
Theme / Episode
Description

The Muppets (comic strip)

---

November 27, 1981
Patrol Bear prompts Beauregard to explain his loitering.

Meet the Muppets

---

Gonzo's Story
Patrol Bear and the Chief respond to a tip as to the whereabouts of The Masked Phantom.

Bear on Patrol: Special Produce Unit

---

The Muppets Kitchen with Cat Cora
In the episode "Breakfast Isn't Just For Breakfast Anymore," Patrol Bear has an elderly lady identify the vegetable that she's looking for.
See also
Ad blocker interference detected!
Wikia is a free-to-use site that makes money from advertising. We have a modified experience for viewers using ad blockers

Wikia is not accessible if you've made further modifications. Remove the custom ad blocker rule(s) and the page will load as expected.