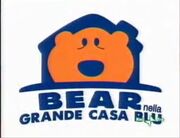 Bear nella Grande Casa Blu
is the Italian dub of
Bear in the Big Blue House
. The episodes are dubbed straight into Italian. They began airing on RaiTre and
Disney Channel
in 2001, followed by
Playhouse Disney
in 2005. Reruns began airing on Rai YoYo in October 2011.
Voices
Credits
Dubbing studio: Cast Doppiaggio
Dialogue translators: Barbara Majano, Cinzia de Carolis, Cinzia Sartorello, Cristina Giachero, Daniele Mancini, Danilo de Girolamo, Elisa Galletta, Emanuela Baroni, Fabio Galimberti, Francesca Bregni, Laura Bacci, Luigi Calabrò, Luca Dal Fabbro, Miriam Spera, Paola Giannetti, Roberta Gasparetti
Dubbing directors: Luca Dal Fabbro, Renato Cecchetto, Carlo Cosolo
Song translations: Ermavilo, Lorena Brancucci
Musical direction: Ermavilo
External links
Ad blocker interference detected!
Wikia is a free-to-use site that makes money from advertising. We have a modified experience for viewers using ad blockers

Wikia is not accessible if you've made further modifications. Remove the custom ad blocker rule(s) and the page will load as expected.