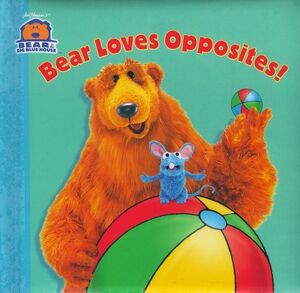 In Bear Loves Opposites!, Bear discusses some of his favorite opposites. He comments that opposites are everywhere you look. He concludes that there's no two ways about it --- he "loves opposites!"
Bear Loves Opposites! is a highly simplified version of the plot from "As Different as Day and Night" and focuses mainly on giving examples of opposites. This is a "Super Chubby" board-book.
Ad blocker interference detected!
Wikia is a free-to-use site that makes money from advertising. We have a modified experience for viewers using ad blockers

Wikia is not accessible if you've made further modifications. Remove the custom ad blocker rule(s) and the page will load as expected.