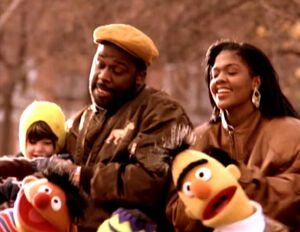 Benjamin Winans (b. 1962) and Priscilla Marie Winans Love (b. 1964) are a pair of siblings, better known as the musical duo of "BeBe & CeCe Winans." The gospel duo was active from 1982 to 1996, with several albums and Grammy Awards. They later reunited in 2009 for a new album, Still.
In 1992, the pair provided vocals for the Sesame Street song, "Dancin' Shoes." They make a brief cameo in the segment, grooving to the song with Ernie and Bert.
Ad blocker interference detected!
Wikia is a free-to-use site that makes money from advertising. We have a modified experience for viewers using ad blockers

Wikia is not accessible if you've made further modifications. Remove the custom ad blocker rule(s) and the page will load as expected.