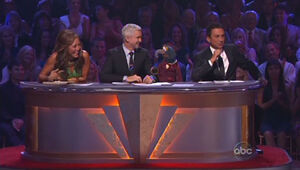 Baz Luhrmann (b. 1962) is an Academy award-nominated Australian film director, screenwriter, and producer. His most famous films are the Hollywood hits Moulin Rouge!, and William Shakespeare's Romeo + Juliet.
Luhrmann was a guest judge on Dancing with the Stars in 2009, when Gonzo made an appearance at the judge's table.
Luhrmann's film Moulin Rouge! was parodied in It's a Very Merry Muppet Christmas Movie, while his film Romeo + Juliet was slated to be spoofed in the unfinished film The Next Muppet Movie.
External links
Ad blocker interference detected!
Wikia is a free-to-use site that makes money from advertising. We have a modified experience for viewers using ad blockers

Wikia is not accessible if you've made further modifications. Remove the custom ad blocker rule(s) and the page will load as expected.