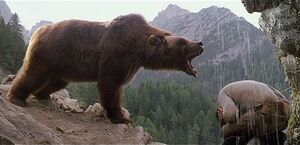 Bart the Bear (1977-2000) was a male Alaskan Kodiak Bear who appeared in several Hollywood films.
In 1988, he appeared in L'Ours, for which the Jim Henson Creature Shop provided animatronics. His other film credits include Legends of the Fall, White Fang (with Ethan Hawke), The Edge (with Alec Baldwin), The Great Outdoors (with John Candy), The Clan of the Cave Bear (with Daryl Hannah), and Walking Thunder (with John Denver).
Bart should not be confused with a younger bear of the same name, who has appeared in Dr. Dolittle 2. The younger bear was named after the elder.
External links
Ad blocker interference detected!
Wikia is a free-to-use site that makes money from advertising. We have a modified experience for viewers using ad blockers

Wikia is not accessible if you've made further modifications. Remove the custom ad blocker rule(s) and the page will load as expected.