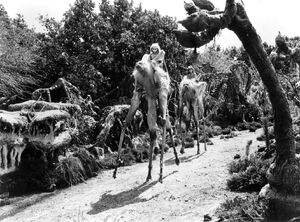 Barry Fowler worked as part of Jim Henson's Creature Shop beginning with The Dark Crystal, where he was on the fabrication team for the Landstriders. He later moved to the mold shop department.
Outside of the Creature Shop, Fowler worked with Neal Scanlan's studio on Babe: Pig in the City, 102 Dalmatians, and Kangaroo Jack. He also worked on molds for the animatronic creatures in the Harry Potter movies.
Henson/Creature Shop credits
Ad blocker interference detected!
Wikia is a free-to-use site that makes money from advertising. We have a modified experience for viewers using ad blockers

Wikia is not accessible if you've made further modifications. Remove the custom ad blocker rule(s) and the page will load as expected.