Barrio Sésamo episodes with recycled plots
Talk

0
Share
Ad blocker interference detected!
Wikia is a free-to-use site that makes money from advertising. We have a modified experience for viewers using ad blockers

Wikia is not accessible if you've made further modifications. Remove the custom ad blocker rule(s) and the page will load as expected.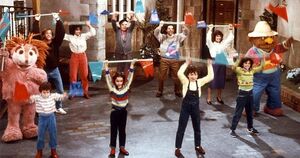 On Barrio Sésamo, in order to produce 120 shows a season, sometimes the street scenes from an episode that aired two seasons before would be recycled. This list contains all known episodes that contain recycled street scenes aswell the last episodes before the show stopped.
| Original episode | Title | Dates of being aired |
| --- | --- | --- |
| Episode 001 | "Presentación de Espinete y Ana" | (4-4-1983) |
| Episode 002 | "La caseta" | (5-4-1983) (28-11-1983) (09-4-1987) |
| Episode 003 | "La bicicleta" | (6-4-1983) (5-9-1983) (13-2-1984) (8-4-1987) |
| Episode 004 | "Vamos a jugar" | (7-4-1983) (7-11-1983) (6-4-1987) |
| Episode 005 | "Dietética sana" | (8-4-1983) (19-12-1983) (15-4-1987) |
| Episode 006 | "El extranjero" | (11-4-1983) (3-8-1983) (2-2-1984) (7-4-1987) |
| Episode 007 | "Dormir en casa de un amigo" | (12-4-1983) (9-11-1983) (14-4-1987) |
| Episode 008 | "El invento de Don Pimpón" | (13-4-1983) (28-6-1983) (23-11-1983) (4-5-1987) |
| Episode 009 | "Hay que divertirse" | (15-4-1983) (14-11-1983) (13-4-1987) |
| Episode 010 | "La máquina" | (18-4-1983) (16-11-1983) (20-4-1987) |
| Episode 011 | "Primer día de escuela" | (19-4-1983) (14-9-1983) (17-9-1984) (21-4-1987) |
| Episode 012 | "El cubo" | (20-4-1983) (18-7-1983) (20-12-1983) (22-4-1987) |
| Episode 013 | "Fiesta de piñata" | (21-4-1983) (8-9-1983) (2-3-1984) (16-4-1987) |
| Episode 014 | "Las cosquillas" | (22-4-1983) (22-11-1983) (14-5-1987) |
| Episode 015 | "La tortuga" | (2-5-1983) (26-7-1983) (16-1-1984) (30-4-1987) |
| Episode 016 | "Los mayores saben jugar" | (3-5-1983) (2-9-1983) (17-2-1984) (27-5-1987) |
| Episode 017 | "El plátano" | (4-5-1983) (5-8-1983) (7-2-1984) (7-5-1987) |
| Episode 018 | "El cumpleaños de Teresa" | (5-5-1983) (16-8-1983) (9-2-1984) (19-5-1987) |
| Episode 019 | "El juego" | (6-5-1983) (15-8-1983) (8-2-1984) (11-6-1987) |
| Episode 020 | "La familia Peláez" | (9-5-1983) (30-11-1983) (8-6-1987) |
| Episode 021 | "La vaca" | (10-5-1983) (15-12-1983) (6-6-1987) |
| Episode 022 | "Los cubiertos" | (11-5-1983) (1-8-1983) (30-1-1984) (10-6-1987) |
| Episode 023 | "Socorro" | (12-5-1983) (16-12-1983) (29-6-1987) |
| Episode 024 | "Singular persecución" | (13-5-1983) (7-12-1983) (17-6-1987) |
| Episode 025 | "La pelota se pincha" | (18-5-1983 ) (13-9-1983) (5-3-1984) (3-6-1987) |
| Episode 026 | "Los sacos" | (19-5-1983) (29-8-1983) (21-2-1984) (20-5-1987) |
| Episode 027 | "La electricidad" | (20-5-1983) (2-8-1983) (1-2-1984) (11-5-1987) |
| Episode 028 | "El teatro" | (27-5-1983) (25-7-1983) (11-1-1984) (2-7-1987) |
| Episode 029 | "Un barco en una botella" | (15-6-1983) (7-9-1983) (15-2-1984) (22-7-1987) |
| Episode 030 | "Sueños fantásticos" | (17-6-1983) (17-8-1983) (10-2-1984) (20-8-1987) |
| Episode 031 | "El enfado de Espinete" | (23-6-1983) (31-8-1983) (28-2-1984) (18-5-1987) |
| Episode 032 | "Inventando juegos" | (24-6-1983) (19-7-1983) (21-12-1983) (18-6-1987) |
| Episode 033 | "La imprenta de patata" | (20-7-1983) (26-12-1983) (22-6-1987) |
| Episode 034 | "Don Pimpón tiene calor" | (21-7-1983) (9-1-1984) (29-7-1987) |
| Episode 035 | "Manos a la masa" | (22-7-1983) (4-1-1984) (25-6-1987) |
| Episode 036 | "La huerta de Julián" | (27-7-1983) (18-1-1984) (7-7-1987) |
| Episode 037 | "Viendo la televisión" | (28-7-1983) (23-1-1984) (5-8-1987) |
| Episode 038 | "Los gorros" | (29-7-1983) (25-1-1984) (2-6-1987) |
| Episode 039 | "La higiene del cuerpo" | (4-8-1983) (6-2-1984) (28-4-1987) |
| Episode 040 | "La bolera" | (18-8-1983) (27-2-1984) (26-5-1987) |
| Episode 041 | "Profesiones" | (19-8-1983) (9-3-1984) (6-8-1987) |
| Episode 042 | "Una tarde en casa" | (30-8-1983) (22-2-1984) (1-9-1987) |
| Episode 043 | "Los faroles" | (1-9-1983) (23-3-1984) (13-8-1987) |
| Episode 044 | "El gato" | (6-9-1983) (20-2-1984) (4-6-1987) |
| Episode 045 | "La viejecita simpática" | (9-9-1983) (16-2-1984) (15-7-1987) |
| Episode 046 | "Mi zapato" | (12-9-1983) (8-3-1984) (13-7-1987) |
| Episode 047 | "El mural" | (15-9-1983) (29-2-1984) (28-5-1987) |
| Episode 048 | "Personajes famosos" | (16-9-1983) (1-3-1984) (1-7-1987) |
| Episode 049 | "El cajón de los juguetes" | (19-9-1983) (6-3-1984) (23-4-1987) |
| Episode 050 | "Conozcamos a los animales" | (20-9-1983) (10-4-1984) (5-5-1987) |
| Episode 051 | "El florero" | (21-9-1983) (13-3-1984) (8-6-1987) |
| Episode 052 | "Jugando con palabras" | (22-9-1983) (23-2-1984) (11-6-1984) (23-6-1987) |
| Episode 053 | "Pies" | (23-9-1983) (7-3-1984) (14-6-1984) (30-7-1987) |
| Episode 054 | "Cómo transportar un paquete" | (26-9-1983) (12-3-1984) (2-7-1984) (25-5-1987) |
| Episode 055 | "Salir el sol" | (27-9-1983) (14-2-1984) (18-6-1984) (6-5-1987) |
| Episode 056 | "El sillón" | (28-9-1983) (5-4-1984) (19-6-1984) (19-8-1987) |
| Episode 057 | "Ana y la música" | (29-9-1983) (20-3-1984) (3-7-1984) (16-7-1987) |
| Episode 058 | "El molinillo de Espinete" | (30-9-1983) (22-3-1984) (21-6-1984) (27-8-1987) |
| Episode 059 | "Tele en la tele" | (3-10-1983) (27-3-1984) (22-6-1984) (10-8-1987) |
| Episode 060 | "Las bromas de Don Pimpón" | (4-10-1983) (21-3-1984) (27-6-1984) (4-8-1987) |
| Episode 061 | "Los domadores y Espinete" | (5-10-1983) (28-3-1984) (29-6-1984) (18-8-1987) |
| Episode 062 | "El chatarrero" | (7-10-1983) (15-3-1984) (26-6-1984) (23-7-1987) |
| Episode 063 | "Majo, Mimo, mago" | (10-10-1983) (14-3-1984) (28-6-1984) (20-7-1987) |
| Episode 064 | "Las cosas de Don Pimpón y Espinete" | (11-10-1983) (25-6-1984) (30-7-1984) (8-9-1987) |
| Episode 065 | "La cometa" | (12-10-1983) (29-3-1984) (5-7-1984) (12-8-1987) |
| Episode 066 | "El cuarto de Jugar" | (13-10-1983) (24-2-1984) (4-7-1984) (24-6-1987) |
| Episode 067 | "La riña de Espinete" | (14-10-1983) (19-3-1984) (6-7-1984) (3-8-1987) |
| Episode 068 | "Espinete quiere jugar" | (17-10-1983) (6-4-1984) (16-7-1984) (28-7-1987) |
| Episode 069 | "El día de la compra" | (18-10-1983) (11-11-1983) (18-5-1984) (6-9-1984) (26-8-1987) |
| Episode 070 | "La campanilla de Espinete" | (19-10-1983) (24-4-1984) (18-7-1984) (2-9-1987) |
| Episode 071 | "Operación cangrejo" | (20-10-1983) (2-4-1984) (26-7-1984) (10-9-1987) |
| Episode 072 | "La magia de Espinete" | (21-10-1983) (30-3-1984) (12-7-1984) (3-9-1987) |
| Episode 073 | "El conejo herido" | (24-10-1983) (26-3-1984) (9-7-1984) (17-8-1987) |
| Episode 074 | "Bromas" | (25-10-1983) (28-12-1983) (28-5-1984) (7-9-1987) |
| Episode 075 | "La cuerda" | (26-10-1983) (1-5-1984) (13-6-1984) (3-9-1984) (15-9-1987) |
| Episode 076 | "Los ruidos de Espinete" | (27-10-1983) (4-5-1984) (5-9-1984) (9-9-1987) |
| Episode 077 | "La barca de Espinete" | (28-10-1983) (25-4-1984) (13-7-1984) (12-5-1987) |
| Episode 078 | "Las fotos de Espinete" | (31-10-1983) (4-4-1984) (17-7-1984) (21-7-1987) |
| Episode 079 | "El cohete de Espinete" | (1-11-1983) (13-4-1984) (20-7-1984) (25-8-1987) |
| Episode 080 | "La puerta" | (2-11-1983) (9-4-1984) (11-7-1984) (21-5-1987) |
| Episode 081 | "Verdad o mentira" | (3-11-1983) (12-4-1984) (19-7-1984) (09-6-1987) |
| Episode 082 | "El cuadro de Espinete" | (4-11-1983) (26-4-1984) (27-7-1984) (17-9-1987) |
| Episode 083 | "Son como niños" | (8-11-1983) (11-4-1984) (10-7-1984) (1-6-1987) |
| Episode 084 | "El horario de Espinete" | (10-11-1983) (3-5-1984) (31-7-1984) (16-9-1987) |
| Episode 085 | "Tres juegos para dos" | (15-11-1983) (30-4-1984) (23-7-1984) (31-8-1987) |
| Episode 086 | "Reir o no reir" | (17-11-1983) (7-5-1984) (12-9-1984) (21-9-1987) |
| Episode 087 | "El mensaje secreto" | (18-11-1983) (8-5-1984) (4-9-1984) (22-9-1987) |
| Episode 088 | "Qué latazo de orden" | (21-11-1983) (29-4-1987) |
| Episode 089 | "Expresión corporal" | (24-11-1983) (10-5-1984) (14-9-1984) (24-9-1987) |
| Episode 090 | "El encantador de serpientes" | (25-11-1983) (9-5-1984) (10-9-1984) (14-9-1987) |
| Episode 091 | "Jugando al circo" | (29-11-1983) (22-5-1984) (20-9-1984) (30-9-1987) |
| Episode 092 | "El espantapájaros" | (1-12-1983) (23-5-1984) (6-10-1987) |
| Episode 093 | "Espinete de La Mancha" | (2-12-1983) (2-5-1984) (11-9-1984) (7-10-1987) |
| Episode 094 | "El sillín nuevo" | (5-12-1983) (27-7-1987) |
| Episode 095 | "El balón de Espinete" | (6-12-1983) (11-5-1984) (13-9-1984) (1-10-1987) |
| Episode 096 | "La película de Espinete" | 8-12-1983) (27-4-1984) (24-7-1984) (23-9-1987) |
| Episode 097 | "El botijo de Espinete" | (9-12-1983) (25-5-1984) (9-8-1984) (8-10-1987) |
| Episode 098 | "Espinete tiene hipo" | (12-12-1983) (9-7-1987) |
| Episode 099 | "La taquilla" | (13-12-1983) (27-4-1987) |
| Episode 100 | "La familia Ortiz" | (14-12-1983) (14-7-1987) |
| Episode 101 | "El muñeco mecánico" | (22-12-1983) (31-5-1984) (13-10-1987) |
| Episode 102 | "Está nevando, Espinete" | (23-12-1983) (24-12-1984) (23-12-1987) |
| Episode 103 | "El Orinal de Espinete" | (27-12-1983) (24-5-1984) (19-9-1984) (14-10-1987) |
| Episode 104 | "Don inventos y Espinete" | (29-12-1983) (23-4-1984) (25-7-1984) (15-10-1987) |
| Episode 105 | "Por la noche" | (30-12-1983) (31-12-1984) (30-12-1987) |
| Episode 106 | "La luna" | (2-1-1984) (17-5-1984) (5-10-1984) (21-10-1987) |
| Episode 107 | "Se ha perdido un libro" | (3-1-1984) (30-5-1984) (27-9-1984) (12-10-1987) |
| Episode 108 | "Noche de reyes" | (5-1-1984) (4-1-1985) |
| Episode 109 | "Qué cisco de circo" | (6-1-1984) (8-6-1984) (22-10-1987) |
| Episode 110 | "El marciano y Espinete" | (10-1-1984) (4-6-1984) (21-9-1984) (28-9-1987) |
| Episode 111 | "Rimas" | (12-1-1984) (16-5-1984) (11-10-1984) (5-11-1987) |
| Episode 112 | "Espinete y el buzón" | (13-1-1984) (29-5-1984) (18-9-1984) (5-10-1987) (21-12-1987) |
| Episode 113 | "El silencio de Espinete" | (17-1-1984) (15-5-1984) (15-10-1984) (2-11-1987) |
| Episode 114 | "El agua" | (19-1-1984) (7-6-1984) (10-1-1985) (27-10-1987) |
| Episode 115 | "Las personas comen de todo" | (20-1-1984) (1-6-1984) (9-10-1984) (22-12-1987) |
| Episode 116 | "Espinete y el árbol del tesoro" | (24-1-1984) (5-6-1984) (1-10-1984) (29-9-1987) |
| Episode 117 | "La boina" | (26-1-1984) (6-6-1984) (4-10-1984) (04-11-1987) |
| Episode 118 | "El detective" | (27-1-1984) (14-5-1984) (3-10-1984) (18-11-1987) |
| Episode 119 | "Espinete y el bosque" | (31-1-1984) (12-6-1984) (14-1-1985) (19-10-1987) |
| Episode 120 | "El trabalenguas" | (3-2-1984) (15-6-1984) (2-10-1984) (26-11-1987) |
| Episode 121 | "La lluvia y Espinete" | (16-4-1984) (22-11-1984) (3-11-1987) |
| Episode 122 | "El columpio y Espinete" | (17-4-1984) (16-10-1984) (23-11-1984) (20-10-1987) |
| Episode 123 | "El ayudante de Espinete" | (18-4-1984) (26-10-1984) (4-12-1984) (17-11-1987) |
| Episode 124 | "¡Qué desbarajuste!" | (19-4-1984) (25-10-1984) (7-12-1984) (24-11-1987) |
| Episode 125 | "Circuitos y Espinete" | (20-4-1984) (29-10-1984) (3-12-1984) (19-11-1987) |
| Episode 126 | "El cuadro de Ana" | (1-8-1984) (17-10-1984) (26-11-1984) (9-11-1987) |
| Episode 127 | "Vivan los novios, Espinete" | (2-8-1984) (2-11-1984) (11-12-1984) (1-12-1987) |
| Episode 128 | "El tic-tac" | (3-8-1984) (22-10-1984) (8-11-1984?) (11-11-1987) |
| Episode 129 | "El amigo invisible" | (6-8-1984) (16-11-1984) (7-12-1987) |
| Episode 130 | "Los dos inventores" | (7-8-1984) (23-10-1984) (28-11-1984) (10-11-1987) |
| Episode 131 | "Las palabras" | (10-8-1984) (6-11-1984) (12-12-1984) (3-12-1987) |
| Episode 132 | "Lorito real" | (14-8-1984) (19-11-1984) (9-1-1985) (30-11-1987) |
| Episode 133 | "Concurso de baile" | (15-8-1984) (9-11-1984) (17-12-1984) (29-12-1987) |
| Episode 134 | "La tórtola herida" | (16-8-1984) (30-10-1984) (10-12-1984) (25-11-1987) |
| Episode 135 | "El guateque" | (17-8-1984) (18-10-1984) (30-11-1984) (28-10-1987) |
| Episode 136 | "Grandes y Chicos" | (20-8-1984) (14-11-1984) (3-1-1985) (14-12-1987) |
| Episode 137 | "Los trucos de Espinete" | (21-8-1984) (31-10-1984) (5-12-1984) (16-11-1987) |
| Episode 138 | "El tren de Espinete" | (22-8-1984) (24-10-1984) (17-1-1985) (2-12-1987) |
| Episode 139 | "Una fiesta"" | (23-8-1984) (7-11-1984) (18-12-1984) (26-10-1987) |
| Episode 140 | "Ana peluquera" | (24-8-1984) (29-11-1984) (17-12-1987) |
| Episode 141 | "¿Dónde están las palomas?" | (27-8-1984) (13-11-1984) (13-12-1984) (15-12-1987) |
| Episode 142 | "Espinete y la Venus" | (28-8-1984) (20-11-1984) (20-12-1984) (23-11-1987) |
| Episode 143 | "A bombo y platillo" | (29-8-1984) (19-10-1984) (27-11-1984) (12-11-1987) |
| Episode 144 | "La lavadora nueva" | (30-8-1984) (15-11-1984) (15-1-1985) (16-12-1987) |
| Episode 145 | "Los trabajos de Espinete" | (31-8-1984) (21-11-1984) (27-12-1984) (8-12-1987) |
| Episode 146 | "La tía Flora" | (7-9-1984) (12-11-1984) (28-12-1984) (10-12-1987) |
| Episode 147 | "El concurso de Espinete" | (1-11-1984) (21-12-1984) (16-1-1985) (9-12-1987) |
| Episode 148 | "La paella" | (5-11-1984) (19-12-1984) (8-1-1985) (28-23-2987) |
| Episode 149 | "Gato, baúl y Espinete" | (14-12-1984) (11-1-1985) (24-8-1987) |
| Episode 150 | "El vendedor ambulante" | (18-1-1985) (27-2-1985) (15-5-1985) (11-2-1987) |
| Episode 151 | "Las prendas" | (21-1-1985) (18-2-1985) (5-3-1985) (21-5-1985) (13-8-1985) (16-2-1987) |
| Episode 152 | "Espinete y el rastrillo" | (22-1-1985) (18-4-1985) (16-7-1985) (9-1-1987) |
| Episode 153 | "Adelina y Espinete" | (23-1-1985) (16-4-1985) (9-7-1985) (15-1-1987) |
| Episode 154 | "¡Que viene el alcalde!" | (24-1-1985) (17-4-1985) (17-7-1985) (14-1-1987) |
| Episode 155 | "El retrato misterioso" | (25-1-1985) (15-4-1985) (15-7-1985) (16-1-1987) |
| Episode 156 | "El guaperas" | (28-1-1985) (22-4-1985) (17-7-1985) (13-1-1987) |
| Episode 157 | "Espinete cuentista" | (30-1-1985) (24-4-1985) (22-7-1985) (20-1-1987) |
| Episode 158 | "La persona ideal" | (31-1-1985) (2-8-1985) (19-9-1985) (22-1-1987) |
| Episode 159 | "Las vacaciones de Espinete" | (1-2-1985) (21-6-1985) (6-9-1985) (21-1-1987) |
| Episode 160 | "Cosas que hacer" | (4-2-1985) (29-4-1985) (19-1-1987) |
| Episode 161 | "La luna payasa" | (5-2-1985) (30-4-1985) |
| Episode 162 | "La fotografía" | (6-2-1985) (2-5-1985) (30-7-1985) (26-1-1987) |
| Episode 163 | "Kurro y Espinete" | (7-2-1985) (26-4-1985) (26-7-1985) (27-1-1987) |
| Episode 164 | "Superespinete" | (8-2-1985) (21-10-1985) (28-1-1987) |
| Episode 165 | "Corre la bola" | (11-2-1985) (6-5-1985) (2-8-1985) (29-1-1987) |
| Episode 166 | "La cenicienta y Espinete" | (12-2-1985) (3-5-1985) (1-8-1985) (31-1-1987) |
| Episode 167 | "La banda y Espinete" | (13-2-1985) (9-5-1985) (3-7-1985) (20-9-1985) (2-2-1987) |
| Episode 168 | "Úrsula y Espinete" | (14-2-1985) (7-5-1985) (25-10-1985) (3-2-1987) |
| Episode 169 | "Esperando el autobús" | (15-2-1985) (10-10-1985) (5-2-1987) |
| Episode 170 | "Llama que te llama" | (19-2-1985) (27-3-1985) (12-6-1985) (3-9-1985) (23-2-1987) |
| Episode 171 | "Veo, veo, ¿qué ves?" | (20-2-1985) (2-4-1985) (18-6-1985) (2-9-1985) (2-3-1987) |
| Episode 172 | "Los viajes de Espinete" | (21-2-1985) (17-5-1985) (4-2-1987) |
| Episode 173 | "Los trogloditas" | (22-2-1985) (24-5-1985) (19-2-1987) |
| Episode 174 | "Visto y no visto" | (25-2-1985) (4-7-1985) (24-9-1985) (13-2-1987) |
| Episode 175 | "El sereno" | (26-2-1985) (14-5-1985) (31-5-1985) (9-2-1987) |
| Episode 176 | "El otro Espinete" | (28-2-1985) (8-4-1985) (1-5-1985) (29-7-1985) (6-3-1987) |
| Episode 177 | "El crecepelos" | (1-3-1985) (16-5-1985) (12-2-1987) |
| Episode 178 | "Personas, animales y juegos" | (4-3-1985) (20-5-1985) (12-8-1985) (10-2-1987) |
| Episode 179 | "El arca de Noé" | (6-3-1985) (22-5-1985) (14-8-1985) (17-2-1987) |
| Episode 180 | "La amiga de Espinete" | (7-3-1985) (23-5-1985) (16-8-1985) (7-1-1988) |
| Episode 181 | "Los trogloditas atacan de nuevo" | (8-3-1985) (8-7-1985) (27-9-1985) (9-3-1987) |
| Episode 182 | "El elefante" | (11-3-1985) (27-5-1985) (19-8-1985) (22-2-1988) |
| Episode 183 | "Espinete y el aspirus zampa, zampa" | (12-3-1985) (28-5-1985) (20-8-1985) (11-1-1988) |
| Episode 184 | "Santo y seña, forastero" | (13-3-1985) (29-5-1985) (21-8-1985) (27-2-1987) |
| Episode 185 | "La pandilla ecológica" | (14-3-1985) (30-5-1985) (23-8-1985) (26-2-1987) |
| Episode 186 | "Los sombreros" | (15-3-1985) (22-8-1985) (13-1-1988) |
| Episode 187 | "Espinete bla, bla, bla" | 18-3-1985) (3-6-1985) (5-9-1985) (24-2-1987) |
| Episode 188 | "El viajero del espacio" | (19-3-1985) (6-6-1985) (30-8-1985) (3-11-1986) (21-1-1988) |
| Episode 189 | "El hipnotizador y Espinete" | (20-3-1985) (4–6-1985) (27-8-1985) (16-6-1986) (12-1-1988) |
| Episode 190 | "Espinete y el eco" | (21-3-1985) (5-6-1985) (28-8-1985) (14-1-1988) |
| Episode 191 | "¡Qué desastre de sastre!" | (22-3-1985) (7-6-1985) (29-8-1985) (18-2-1987) |
| Episode 192 | "Espinete justiciero" | (25-3-1985) (26-8-1985) (20-2-1987) |
| Episode 193 | "La bruja Piruja" | (26-3-1985) (13-6-1985) (4-9-1985) (19-1-1988) |
| Episode 194 | "Espinete y los walkie-talkie" | (28-3-1985) (11-6-1985) (25-2-1987) |
| Episode 195 | "Repollo con lazo" | (29-3-1985) (10-6-1985) (3-3-1987) |
| Episode 196 | "Radio Sésamo" | (1-4-1985) (17-6-1985) (18-1-1988) |
| Episode 197 | "Los enamorados" | (4-4-1985) (19-6-1985) |
| Episode 198 | "Fiesta en casa de Ana" | (9-4-1985) (24-6-1985) (17-9-1985) (5-3-1987) |
| Episode 199 | "Espinete bebé" | (5-4-1985) (11-7-1985) (23-10-1985) (20-10-1986) (17-11-1986) (28-1-1988) |
| Episode 200 | "La tele en el barrio" | (11-4-1985) (26-5-1985) (16-9-1985) (10-3-1987) |