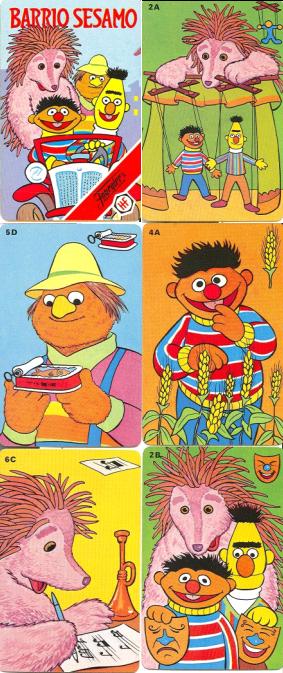 The Spanish company Fournier released two sets of Barrio Sésamo themed card games, one in 1984 and another in 1985.
The first set depicts Bert, Ernie, Espinete and Don Pimpón, while the second set only includes the latter pair. For both games, the goal is to find matching cards from the same series (four cards for the 1984 set, and eight cards for the 1985 set). The one who picks them all out of the hands of the other players wins the game.
Ad blocker interference detected!
Wikia is a free-to-use site that makes money from advertising. We have a modified experience for viewers using ad blockers

Wikia is not accessible if you've made further modifications. Remove the custom ad blocker rule(s) and the page will load as expected.