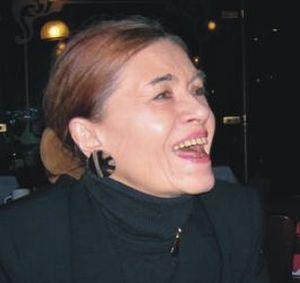 Barbara Ratthey (1940-2009) was a German actress who voiced Ethyl Phillips on Die Dinos (the German dub of Dinosaurs) and the Junk Lady in Labyrinth (Die Reise ins Labyrinth). She also dubbed Mab in Merlin and Miss Lory in Alice in Wonderland.
Barbara Ratthey trained with the noted acting teacher Max Reinhardt in Berlin, and performed on stage, in TV, and in the 1967 German film Rockys Messer. Around the same time, she transitioned to voice dubbing. Ratthey's best known voice role is dubbing Estelle Getty in The Golden Girls; coincidentally, she shares the same distinction with the French and Spanish actresses who dubbed Ethyl in Dinosaurs.
Ratthey also dubbed various guest stars on Star Trek and Star Trek: The Next Generation, Anne Bancroft in Jesus of Nazareth, Cloris Leachman in High Anxiety and History of the World, Part 1, Carol Burnett in The Front Page (1977), Ruby Dee in The Stand, and Pat Crawford Brown in Daredevil. Animation dub roles include Ma Beagle in Ducktales, Mrs. Tweedy in Chicken Run, Molly Grue in The Last Unicorn, Roz in Monsters Inc., and the witch in Howl's Moving Castle.
External links