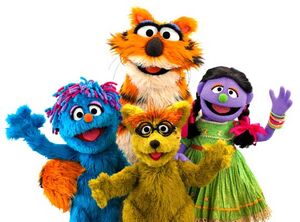 Bangladesh is a country in Asia, bordered almost entirely by India.
Sesame Workshop created a Sesame Street co-production for Bangladesh in 2005, Sisimpur. The development of the series was covered in the documentary, The World According to Sesame Street.
Grover has travelled to Bangladesh on three occasions for his Global Grover segments. On his travels to the country, he has learned how to fish with a net, how to use vegetaion to make art, and how to make toys out of coconut leaves.
Ad blocker interference detected!
Wikia is a free-to-use site that makes money from advertising. We have a modified experience for viewers using ad blockers

Wikia is not accessible if you've made further modifications. Remove the custom ad blocker rule(s) and the page will load as expected.