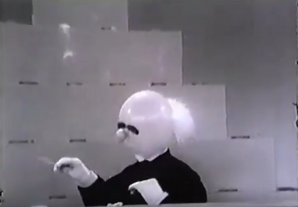 The Balloon-Head Conductor first appeared on Al Hirt's Fanfare in 1965. He later appeared in the 1967 series Our Place, for a segment involving a small orchestra of balloons that popped with the tempo of the music. The sketch ends with one of the balloons deflating, and the conductor having to offset that popping his own head.
He performs a similar routine in episode 112 of The Muppet Show, here designated by Kermit as the "Boston Pops."
The Balloon-Head Conductor resembles a caricature of Arthur Fiedler, which is not surprising considering Kermit's "Boston Pops" reference.
Another balloon-headed Muppet, "The Question", appeared in episode 115. He couldn't keep his head either.
See also
Ad blocker interference detected!
Wikia is a free-to-use site that makes money from advertising. We have a modified experience for viewers using ad blockers

Wikia is not accessible if you've made further modifications. Remove the custom ad blocker rule(s) and the page will load as expected.