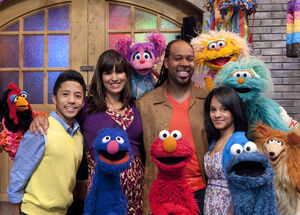 Ballet Hispanico is an American dance company based in Manhattan, New York. It was founded by the Venezuelan American dancer and choreographer Tina Ramirez in 1970 and presents dances reflecting the experience of Hispanic and Latino Americans. It describes itself as "the foremost dance representative of Hispanic culture in the United States."
Ballet Hispanico appears in Sesame Street's 42nd season. Murray and Ovejita visited the company in a season 44 edition of "Murray Has a Little Lamb" to learn flamenco dancing.
Ad blocker interference detected!
Wikia is a free-to-use site that makes money from advertising. We have a modified experience for viewers using ad blockers

Wikia is not accessible if you've made further modifications. Remove the custom ad blocker rule(s) and the page will load as expected.