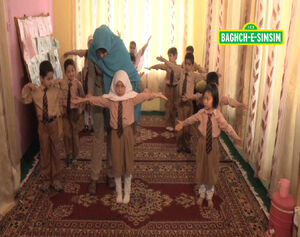 Baghch-e-Simsim (English: Sesame Garden) is the Afghan co-production of Sesame Street, produced by Sesame Workshop in conjunction with Afghan television station Tolo.
The program features dubbed segments from Play with Me Sesame, Sesame Street, and Global Grover, as well as segments and Muppets from the international co-productions in Egypt (Khokha from Alam Simsim), Bangladesh (Tuktuki from Sisimpur), Mexico (Lola from Plaza Sésamo) and Russia (Businka from Ulitsa Sezam). These segments are dubbed into both Dari (for airing on Tolo) and Pashto (for airing on Lemar).
Each episode also includes locally-produced live action films featuring children from around Afghanistan.
The first episode debuted on the Tolo and Lemar TV stations on December 1, 2011.
The Executive Producer of Season 02 and 03 of Baghch-e-Simsim was Tarique Qayumi[1].
Changes
Tania Farzana, the Afghan-American producer of Baghch-e-Simsim, mentioned some changes that had to be made to comport with Afghanistan's conservative society:
Oscar the Grouch and Count von Count were minimized due to cultural taboos against trash and vampirism
A scene with Bert and Ernie barking like dogs was cut due to the low status of canines in Afghanistan, and the widespread use of "dog" as an insult
Due to a taboo on dancing in mixed company, children are encouraged to exercise to music, instead of dancing
References