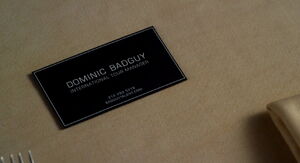 Badguytalent.com is a Walt Disney Pictures-owned website promoting the 2014 film Muppets Most Wanted. The "viral site" was revealed in the movie's theatrical trailer, released on November 20, 2013.
In the trailer, Dominic Badguy shows the Muppets his business card. Sharp-eyed viewers noticed that the card had a website and phone number printed at the bottom. The site, Badguytalent.com, encouraged talented people to call and request Dominic's representation.
This was the entry point for a sweepstakes, offering a trip to the Muppets Most Wanted premiere in Los Angeles.
Ad blocker interference detected!
Wikia is a free-to-use site that makes money from advertising. We have a modified experience for viewers using ad blockers

Wikia is not accessible if you've made further modifications. Remove the custom ad blocker rule(s) and the page will load as expected.