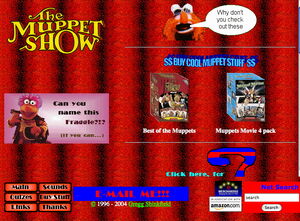 Backstage with the Muppets is a Muppet fan website created by Gregg Shinkfield that was updated from 1996 through 2004. The site included Muppet quizzes, sound clips and shopping links.
The site went defunct in 2009 when Geocities closed down.
External links
Ad blocker interference detected!
Wikia is a free-to-use site that makes money from advertising. We have a modified experience for viewers using ad blockers

Wikia is not accessible if you've made further modifications. Remove the custom ad blocker rule(s) and the page will load as expected.