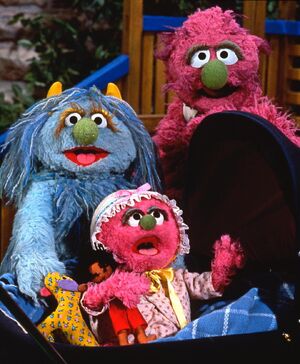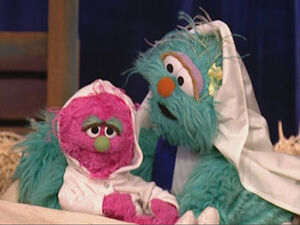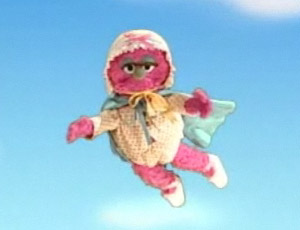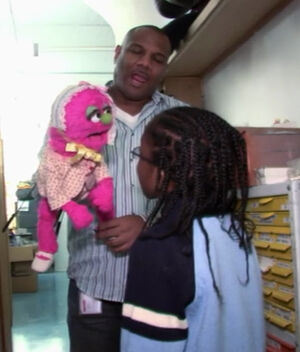 Baby Natasha first appeared on Sesame Street in Season 18. Her father is Humphrey, and her mother is Ingrid. She speaks in baby babbles, and loves to blow raspberries.
Natasha is a very fast crawler. Her parents (and even Oscar, who once babysat her) can't even catch up to her. Natasha has also been babysat by Fran Drescher who was well known at the time for playing TV's The Nanny. Snuffy once watched Natasha in one of her earliest appearances, and tried to teach her to say a new word. She ended up learning two: "Oh, dear." (EKA: Episode 2313)
Baby Natasha has appeared in at least three sketches as a superhero known as Super Baby. In one sketch, her parents, Humphrey and Ingrid, have a large bottle of milk, but no baby, and they don't want it to got to waste, so Super baby arrives and drinks the milk. In another sketch, Humphrey and Ingrid wonder what Superbaby will do that begins with S, which turns out to be "sleep". (EKA: Episode 3756) In another sketch, Super Grover talks about Super Baby as she constantly flies back and forth. She also appears in Elmo's World: Sky in this persona.
Another segment featuring Baby Natasha was a talk show titled "Baby Talk". Spoofing The X Files, Natasha hosts the talk show and interviews her special guest, the letter X.
Her recent appearance is the street story of a 2010 episode of Sesame Street.
In 1994, an issue of Sesame Street Parents revealed the poll results of kids' and adults favorite Muppets when asked in an issue of Sesame Street Magazine. Natasha placed fourth in the overall list, but didn't even make the top 20 for adults. By Season 26, Natasha earned a place in the opening credits in some episodes.
Book appearances
TV special appearances
Merchandise
See also
Ad blocker interference detected!
Wikia is a free-to-use site that makes money from advertising. We have a modified experience for viewers using ad blockers

Wikia is not accessible if you've made further modifications. Remove the custom ad blocker rule(s) and the page will load as expected.