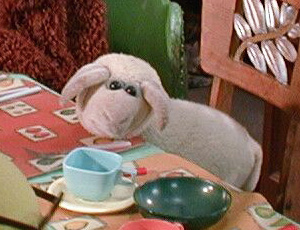 Baab is a Sheep who appeared in Muppets from Space.
Baab lives in the Muppet Boarding House. He was seen sitting between Rowlf the Dog and Sal Minella at breakfast time.
Gonzo and Rizzo give him a shout-out in the DVD commentary.
Trivia
As part of her Make-A-Wish request, 11-year old Kristina Donnelly (1987-1999) performed the role of Baab the Sheep Towards the end of the time she was on the Muppets From Space set, they called production to a stop and Steve Whitmire and Dave Goelz called her up on the set of the boarding house dining room in front of the cast and crew. They gave her a special edition of the Hensonville News Observer, Baab the Sheep (the puppet she performed), and a bag full of dolls and character straws and other assorted things. Kristina got her role in Muppets From Space through the Make-A-Wish Foundation. Her original request was to be an actress in a Muppet movie, but when Steve Whitmire and Dave Goelz (two of the main Muppet Performers) gave her a choice to either act or puppeteer, she chose to puppeteer. And along came Baab the Sheep. She spent a long time on the set of Muppets From Space, and had a lot of fun with the Muppet company, but her favorite people to be around were Steve and Dave. Her favorite Muppet was Rizzo the Rat (one of Steve Whitmire's characters).