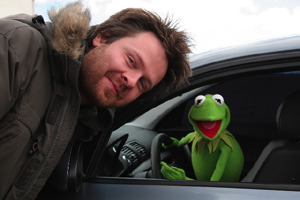 In 2005, Kermit the Frog appeared in two similar German commercials promoting the new BMW-1 for BMW, which were accompanied by several ads in print and online.
The first commercial featured Kermit driving the vehicle in a desert, being stopped by a live frog crossing the road, yelling "Hey buddy, get off the road!" and "...sheesh, frogs!" The second variant had Kermit merely stop to passionately kiss the steering wheel. The featured soundtrack on each of the commercials was "Limbo Rock".
The commercials were shot in Calvinia, South Africa. A making-of was simulcast on about eight German TV-channels in May of 2005; several scenes featuring Kermit and Steve Whitmire included.
Spots and Ads
Credits
Producer: Robert Gold
Director: Stevan Treshow
Director of Photography: John Andreas Andersen
Precision Driver: Robbie Smith
Puppeteer: Steve Whitmire
German Voice: Andreas von der Meden (original dub)
Trivia
In 2004, the ad campaign had already featured (a silent) Kermit in stock footage from an episode of The Muppet Show, among other clips of cheerful individuals. The accompanying song was "Principle of Joy" by Thom.
Later German airings featured a re-dub of Kermit. The commercial subsequently aired in several other European countries; mostly dubbed accordingly, and sometimes even edited differently, such as in France.
External links