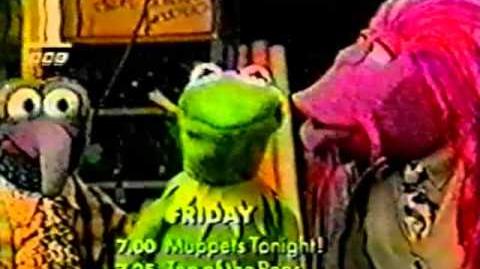 The British Broadcasting Corporation, or BBC, is a large state-owned public service broadcaster in the UK. It creates and airs programming for radio, internet, and television. It draws revenue from a TV license paid by households in the UK, and thus does not depend on either advertisers or shareholders. It is estimated that roughly 90% of UK citizens use BBC services on a weekly basis[1].
The BBC has been involved with several Muppet/Henson productions and appearances over the years. 45 of the 120 edited (without UK skits) episodes of The Muppet Show were shown from 8th February 1986 to 7th October 1987.[2] Tale of the Bunny Picnic, The Secret Life of Toys, Me and My Monsters, That Puppet Game Show and The Furchester Hotel were produced in association with the BBC. Jim Henson, Frank Oz, Kermit the Frog, Fozzie Bear and Miss Piggy appeared on an installment of the interview show "Parkinson" on the BBC in 1979. In 2002, the BBC produced the documentary "I Love Muppets".
John Denver and the Muppets: A Christmas Together special aired on ABC on December 5, 1979. In the UK, it aired on BBC1 on December 15, 1979.
BBC's radio channels have also featured Muppet/Henson content on such series as The Chris Moyles Show (BBC Radio 1), BBC Radio 1 Newsbeat, and The Film Programme (BBC Radio 4). In December 2008, Gideon Coe of BBC 6 Music played a song by The Electric Mayhem on his eponymous program.[1] Elmo was a guest on Greg James in 2011.
Twice have Kermit and Miss Piggy appeared on The One Show on BBC1. In 2009, they spoke to hosts via teleconferencing, then on March 25th, 2014, they appeared live in the studio on the One Show sofa to promote Muppets Most Wanted. In the second appearance, Kermit introduced The One Show in the style of The Muppet Show with stock footage of Gonzo form Episode 309: Liberace being played after the opening titles. Kermit and Piggy's interview also included stock footage from Episode 122: Ethel Merman and Huntley and Brinkley.
Connections
Henson programming aired on BBC Channels
A Muppet Family Christmas, Follow That Bird, I Love Muppets, Inside the Labyrinth, It's a Very Merry Muppet Christmas Movie, John Denver and the Muppets: A Christmas Together, Tale of the Bunny Picnic, Me and My Monsters, Muppet Treasure Island, Muppets Tonight, The Christmas Toy, The Fantastic Miss Piggy Show, The Frog Prince, The Furchester Hotel, The Muppet Babies, The Muppet Musicians of Bremen, The Muppet Show, The Muppets, The Muppets Take Manhattan, The Secret Life of Toys, The StoryTeller, Sesame Tree, That Puppet Game Show
Gallery
External links
Sources
↑ http://www.bbc.co.uk/info/purpose/ "About the BBC - Purpose & Values"