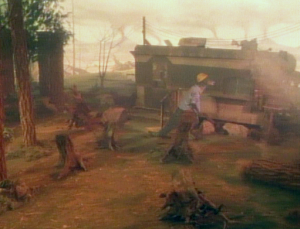 B.P. Richfield's Trailer is a self-enclosed space at the WESAYSO job site. Referred to as the sales office in the company billboard, the trailer is the domain of executive foreman B.P. Richfield. Richfield seldom leaves the confines of his trailer, though the low roof leads to occasional horn-butting incidents. Amenities within the trailer include a television set, telephone for communicating with the main office, and a stock of liquors. Tree-pushers generally venture into the trailer at their own peril.
Ad blocker interference detected!
Wikia is a free-to-use site that makes money from advertising. We have a modified experience for viewers using ad blockers

Wikia is not accessible if you've made further modifications. Remove the custom ad blocker rule(s) and the page will load as expected.