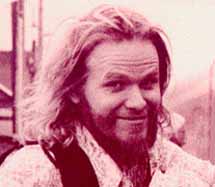 Barrie Phillip Nichol (1944-1988) was a Canadian poet and author who worked on Fraggle Rock. Born Barrie Phillip , he often went by his lower-case initials and last name, with no spaces ("bpNichol"). During the 1960s, he established himself as a writer of "concrete" poetry, and also experimented with audio "sound poetry." For Fraggle Rock, Nichol scripted more than a dozen episodes across the course of the series, and also filled in for Dennis Lee as a song lyricist for such tunes as "Muck and Goo" and "The Joy".
Writing Credits
External links
Ad blocker interference detected!
Wikia is a free-to-use site that makes money from advertising. We have a modified experience for viewers using ad blockers

Wikia is not accessible if you've made further modifications. Remove the custom ad blocker rule(s) and the page will load as expected.