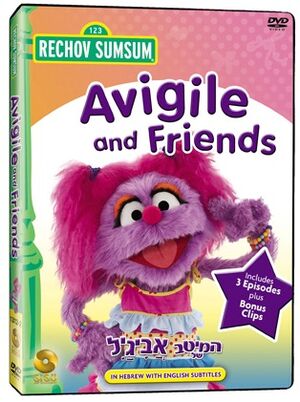 Release Date
2008
Produced by
Sesame Workshop
SISU Home Entertainment
Format
DVD
Discs
1
Region
1
Avigile and Friends is a Rechov Sumsum DVD released in 2008. The video centers around Avigile, the Elmo-like monster of the Israeli co-production. The DVD contains three full episodes of Rechov Sumsum.
Episodes
"Avigile's Paintings": Avigile expresses emotions through her artwork.
"Avigile's Friends": Avigile learns that people who are different can still be friends.
"Avigile is Sad": Gershon has to leave, making Avigile blue. She gets comfort and help from her friends to cheer her up.
DVD features
Sneak Peek of Shalom Sesame programs
Bonus Avigile video clips
Preview of the program
Dolby Digital Sound
Full Screen (4x3)
External links