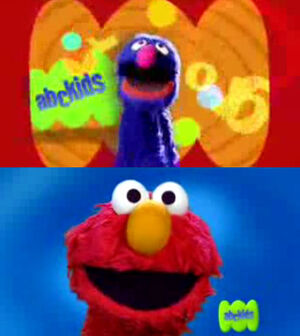 The ABC is Australia's government-funded national television network, which has broadcast Sesame Street more or less continually since 1971 twice-daily in a weekday timeslot. The ABC also periodically broadcasts Elmo's World, Global Grover,The Furchester Hotel, Play With Me Sesame and Elmo the Musical, and has exclusive Australian broadcast rights for most Sesame Workshop productions, excluding the Australian version of Open Sesame.
As well as Sesame Street, the ABC has also screened The Secret Life of Toys, The Hoobs, Mopatop's Shop, Bear in the Big Blue House, Fraggle Rock and Jim Henson Presents the World of Puppetry, as well as the movie Labyrinth. Many of the program produced by Sesame Workshop are aired on the sister channel of ABC, ABC2; much in the same style as BBC1, BBC2 etc.
ABC also co-produced and aired the Henson Company puppet series Bambaloo (2002) and Five Minutes More (2006).
Ad blocker interference detected!
Wikia is a free-to-use site that makes money from advertising. We have a modified experience for viewers using ad blockers

Wikia is not accessible if you've made further modifications. Remove the custom ad blocker rule(s) and the page will load as expected.