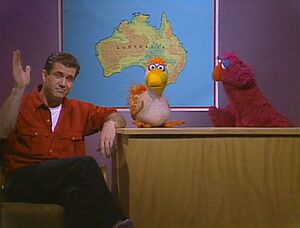 Australia is a commonwealth nation, formerly a British penal colony in its earliest years, which also occupies an entire continent, the smallest of the world's seven. Native animals include such uniquely indigenous creatures as the kangaroo and the koala.
The Australian counterpart to the cable station Nick Jr. has broadcast various Muppet series, including Open Sesame (a compilation of US Sesame Street segments) and Play Along With Ollie, featuring a new specifically Australian Muppet, Ollie.
Farscape was filmed in Australia, and with the exceptions of Ben Browder and Kent McCord, the cast was composed of Australian and New Zealand-based actors.
Uncle Traveling Matt appeared on location in Australia in various episodes of Fraggle Rock. In "I Don't Care", Matt learns of a stick you throw away (the boomerang). In "New Trash Heap in Town", he observes a herd of kangaroos, coming to the conclusion that they serve as transportation systems. During the filming of these segments, Dave Goelz discovered local puppeteer Ron Mueck (born in Melbourne), who served as assistant puppeteer and later joined the Workshop in London.[1]
In episode 210 of The Muppet Show, Gonzo recalls the time he worked with a kangaroo who could tell time, but was always wrong because his watch was on Australian time. The kangaroo had never actually been to Australia, however, having come from Sidney the Agent.
Bambaloo is filmed and aired in Australia. The show first aired on the Seven Network, and has also aired on ABC.
Pajanimals Squacky and Sweetpea Sue appeared on the Seven Network program the Morning Show, although they were still in America despite the show airing in Australia.
Sources
External links
Ad blocker interference detected!
Wikia is a free-to-use site that makes money from advertising. We have a modified experience for viewers using ad blockers

Wikia is not accessible if you've made further modifications. Remove the custom ad blocker rule(s) and the page will load as expected.