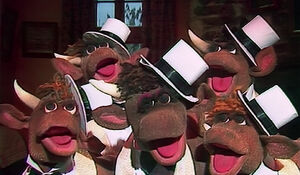 Aunt Melba's Guernsey Cotillion are a sextet of cows who performed "Elegance" in episode 408 of The Muppet Show.
Although six cows perform in the herd in the first two verses, as they shift inside for the big finale, they only retain five.
Their performers include Steve Whitmire, Louise Gold, Dave Goelz, Jerry Nelson and Richard Hunt.
Ad blocker interference detected!
Wikia is a free-to-use site that makes money from advertising. We have a modified experience for viewers using ad blockers

Wikia is not accessible if you've made further modifications. Remove the custom ad blocker rule(s) and the page will load as expected.