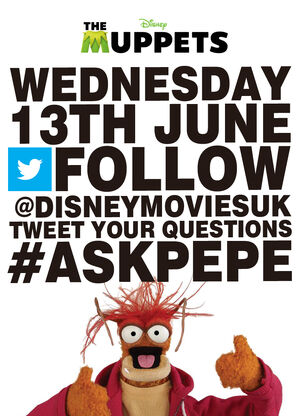 Ask Pepe was an online promotion for the British home video release of The Muppets wherein Pepe the King Prawn answered fan questions on Twitter.
On June 11, 2012, Walt Disney Studios UK began the promotion by posting a YouTube video. In the videos, Pepe explains his tip for Euros 2012, what happened to his partner Seymour and talks about romance, Miss Piggy and some relationship advice offers for the ladies.
Fans were encouraged to send questions to @DisneyMoviesUK with the hashtag #AskPepe, and Pepe spent June 13th answering the questions.

Videos
See also
External links
Ad blocker interference detected!
Wikia is a free-to-use site that makes money from advertising. We have a modified experience for viewers using ad blockers

Wikia is not accessible if you've made further modifications. Remove the custom ad blocker rule(s) and the page will load as expected.