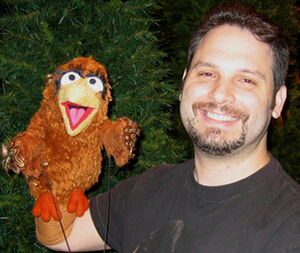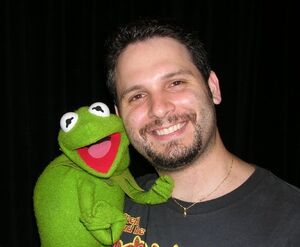 Artie Esposito is the Muppets Studio's understudy performer for Kermit the Frog.
He has performed in a number of projects for Sesame Workshop, The Jim Henson Company and Muppets Studio. In addition, Esposito has built puppets for Jim Henson's Creature Shop, and is a member of Jim Henson's Stuffed and Unstrung troupe.
Esposito has also served as a consultant for Palisades Toys on their lines of Sesame Street and Muppet action figures.
Muppet/Henson credits
Henson Alternative credits
Stuffed and Unstrung - Various
The 53rd Annual Grammy Awards - Back-up Dancer (assist)
Ain't It Cool - Harry Knowles Puppet
Yahoo.com Upfronts - "Old Man" Miskreant Puppet
Non-Muppet credits
Team Smithereen - Splat McKat, Marco Rat
"Weird Al" Yankovic "Polka Face" Music Video - Tuba Yeti
The Dummiez - Eboneeza Screwed
Jib Jab 2010 Year in Review - Arnold Schwarzenegger
The Simpsons – Homer Simpson (puppetry)
Warren the Ape – "Frizzies" Gang Member
The Pee-wee Herman Show (2010) – Chairry (puppetry)
Mind of Mencia – Shoe Puppet, M-16 (voice)
Crank Yankers – Elmer Higgins, Tony DeLoge, Deaf Frat Guy, others
Baby Einstein "Einstein Pals" Commercial – Pablo, Millie, Winston
Jimmy Kimmel Live – LOST puppets
Eminem "Ass Like That" Music Video – Bunraku Dancer, Spoonie Luv
Taco Bueno "Cooking with Suzie" Commercial – Various
2005 MTV Movie Awards – Elmer Higgins
External links