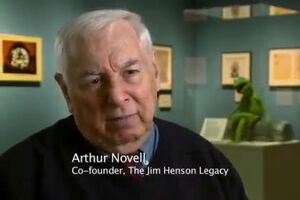 Arthur Novell is the Executive Director of the Jim Henson Legacy, the nonprofit organization dedicated to preserving and perpetuating Jim Henson's contributions to the worlds of puppetry, television, motion pictures, special effects and media technology.
He was Jim Henson's Public Relations manager for much of Henson's career.
During Muppets Tonight, he served as the liaison for the guest stars, a role performed by David Lazer on The Muppet Show. He was responsible for explaining to the guests how to walk on the elevated sets, speak to the Muppets (and not the puppeteers), and make sure they were comfortable with the production.
Trivia
Ad blocker interference detected!
Wikia is a free-to-use site that makes money from advertising. We have a modified experience for viewers using ad blockers

Wikia is not accessible if you've made further modifications. Remove the custom ad blocker rule(s) and the page will load as expected.