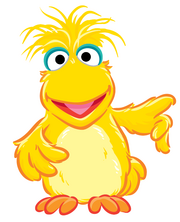 Arthur is a bird on Sesame Street (Japan), the Japanese co-production of Sesame Street. He is Pierre's best friend and together form a comedy duo in the traditional Japanese comedy form called "manzai."
He is similar in design to Little Bird.
Arthur's puppet design is the same as that of the Alarm Clock Bird, and a bird in Sesame Beginnings "Exploring Together".
His most recent appearance after the Japanese Sesame Street was in the show's original American counterpart. He was seen in a tree by Hooper's Store in Episode 4181, as one of the Mine-itis victims.