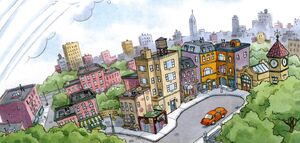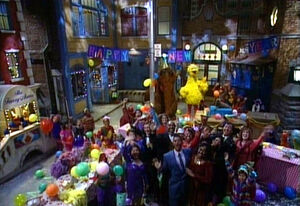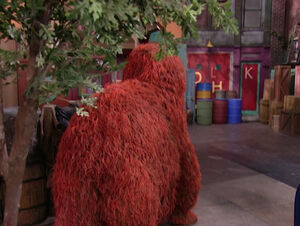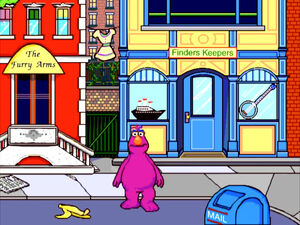 Beginning with Season 25 in 1993, Sesame Street's set expanded Around the Corner to feature a whole new block of locations. The new set first appeared in a 1993 episode, when Big Bird and his friends first visited the Park.
According to Sonia Manzano, "By expanding the street and going around the corner, we will have other places to hang out beyond the stoop of 123 Sesame Street, and we will be able to explore family issues which we think are so important to kids today."[1]
After Season 29, the Around the Corner sets and most of the new characters were dropped from the show. The Around the Corner locations made their final appearance in The Adventures of Elmo in Grouchland.
According to Caroll Spinney, "research showed that it confused the kids, so they dropped it."
According to Martin P. Robinson;
| | | |
| --- | --- | --- |
| " | In Season 25, we opened up the whole "Around the Corner" set filled with new humans and dozens of new puppets. Remember the Furry Arms Hotel? It was a great cast and the plot lines were hilarious, but research discovered that kids couldn't keep track of all these people and puppets, making the shows visually exciting and entertaining for adults, but confusing for kids." [2] | " |
To this day, the Around the Corner area has been shortened into a dead-end alley way, usually where various wooden crates and metal oil barrels are kept; from time to time, Oscar's Sloppy Jalopy can be seen parked there.
In a 2006 episode, Abby tells Big Bird that her home is Around the Corner.
Locations
456 Sesame Street is a brownstone that houses the Day Care Center, operated by Angela.
The Furry Arms Hotel is a Muppet hotel owned by Sherry Netherland, with her employees Humphrey, Ingrid, Benny Rabbit, Otis the Elephant Elevator Operator, and a Dinger.
The Birdland jazz club, which featured live music hosted by Hoots the Owl.
10 Sesame Street is a two-story building. The lower floor is occupied by Finders Keepers, a thrift shop full of objects from fairy tales and nursery rhymes, owned by Ruthie. The top floor contains a dance studio owned by dance teacher Celina.
The Park has a jungle gym and a pond. The Squirrelles live in a tree there.
A newsstand, run by Oscar.
Merchandise
A storybook, Around the Corner on Sesame Street, was published in 1994 to showcase the new locations and characters. Elmo's Lift-and-Peek Around the Corner Book, from 1996, served a similar purpose.
Sources
↑ Bangor Daily News: 'Sesame Street' to change while entering 25th season - August 2, 1993
↑ Robinson, Martin. Sesame in the 90's", Sesame Family Robinson blog June 12, 2011.