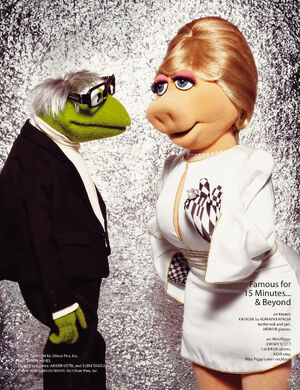 Armani is an Italian fashion house that designs, manufactures, distributes and retails haute couture, ready-to-wear, leather goods, shoes, watches, jewelry, accessories, eyewear, cosmetics, and home interiors. The Armani name has become synonymous with high-fashion and couture worldwide and is considered one of the most prestigious names in the fashion industry.
For a fashion spread photo shoot by Mike Ruiz, Kermit the Frog, dressed as Andy Warhol, sported a pair of glasses by Armani along with his outfit by Romain Kapadia.
External links
Ad blocker interference detected!
Wikia is a free-to-use site that makes money from advertising. We have a modified experience for viewers using ad blockers

Wikia is not accessible if you've made further modifications. Remove the custom ad blocker rule(s) and the page will load as expected.