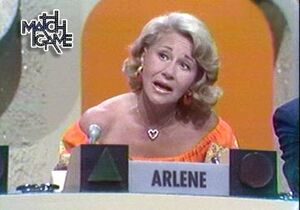 Arlene Francis (1907-2001) was famous for not only her appearances on What's My Line? (episodes of which featured Jim Henson with Kermit, and Caroll Spinney with Big Bird), but also her lengthy career on stage and screen.
She was spoofed with the Sesame Street character Arlene Frantic.
External links
Ad blocker interference detected!
Wikia is a free-to-use site that makes money from advertising. We have a modified experience for viewers using ad blockers

Wikia is not accessible if you've made further modifications. Remove the custom ad blocker rule(s) and the page will load as expected.