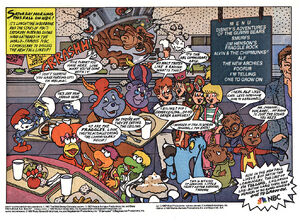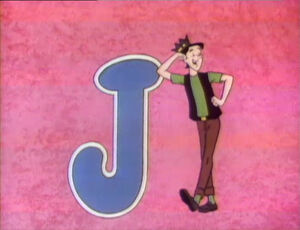 Archie Comics is the comic book publisher and brand named for its best known character, Archie Andrews (created in 1941, for what was then MLJ Publications). Countless comic book titles, past and present, feature the Archie characters, who include girlfriends Betty Cooper and Veronica Lodge, rival Reggie Mantle, and gluttonous best friend Jughead Jones. Other notable titles from the company have starred Josie and the Pussycats and Sabrina the Teenage Witch, and since 1992, the company has been the exclusive US publisher of Sonic the Hedgehog comics.
Filmation produced a long-running animated TV Archie franchise, beginning in 1968, with a different format each year through 1978. The cartoon introduced the fictional band "The Archies," and their song "Sugar, Sugar" became a #1 hit in real life. Little Archie, first published in 1956, predated Muppet Babies in the concept of reworking established characters as children, and often featured a higher quotient of fantasy elements.
Appearances
On Sesame Street, in a segment produced by Filmation, an animated Jughead Jones (voiced by Howard Morris) talks about the letter J. Jughead tells a story about himself joining a jam-eating contest, but was unable to open the jar. So he asked the judge for help, who told him to see the janitor, who told him to go jump in a lake, which he literally did. It turned out that the judge was joking. (EKA: Episode 0231)
A lunchbox featuring The Archie's, the Archie series' signature band made up of Archie, Betty, Jughead, Veronica, Reggie and Hot Dog (Jughead's dog), was seen at the Sleaze Brothers (F)Unfair in Follow That Bird.
Muppet Mentions
In a story originally featured in Jughead #101 (October 1997), Jughead, trying to avoid listening to the paper Dilton keeps reading to him, stuffs bananas in his ears. When Pop Tate asks Jughead why he's doing that, Archie responds "He can't hear you, Pop! He's got bananas in his ears!", referencing Ernie and Bert's "banana in my ear" sketch.
Connections
Ad blocker interference detected!
Wikia is a free-to-use site that makes money from advertising. We have a modified experience for viewers using ad blockers

Wikia is not accessible if you've made further modifications. Remove the custom ad blocker rule(s) and the page will load as expected.