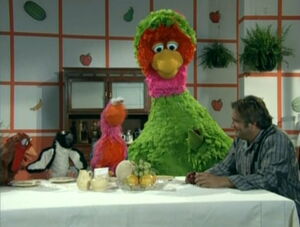 Arath de la Torre (born 1974) is a Mexican actor and comedian best known for his roles in the television series La Parodia and El Privilegio de Mandar.
Arath appeared in Episodio 877 of Plaza Sésamo in the telenovela spoof "Los Monstruos También Lloran", where he discovers he has no food in his house, he calls upon his friends to provide a healthy meal.
He appeared again in Episodio 901, where he explains to Abelardo that it's good to eat a healthy meal with friends.
External links
Ad blocker interference detected!
Wikia is a free-to-use site that makes money from advertising. We have a modified experience for viewers using ad blockers

Wikia is not accessible if you've made further modifications. Remove the custom ad blocker rule(s) and the page will load as expected.