| | |
| --- | --- |
| Released | April 30 & May 1, 2000 |
| Running time | 175 minutes |
| Director | Steve Barron |
| Written by | Peter Barnes |
| Original music by | Richard Harvey |
| Studio | Hallmark Entertainment |
| MPAA Rating | |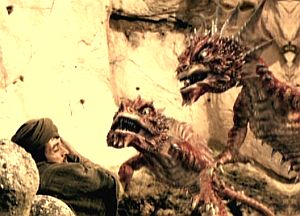 Arabian Nights is a two-part television movie, adapting the tales of One Thousand and One Nights. The frame story involves a sultan, Sharyar, who has been driven mad by his first wife's betrayal and plans to kill his new bride. Scheherezade, daughter of the sultan's vizier, volunteers to marry him, hoping to bring him to his senses, and tells him a series of stories to stave off death. The stories include the tales of Ali Baba and Aladdin, and the lesser known stories of Boucbouc the hunchback (here spelled BacBac) and of Harun al-Rashid and the beggar Amin.
Like previous Hallmark literary epics, the production, directed by Henson veteran Steve Barron, utilized Jim Henson's Creature Shop, who supplied two digital dragons who guard the treasures of Arabia. The dragons resemble giant frilled lizards, and according to the Creature Shop website, "much work was spent in creating anatomically convincing movement - swaying cat-like when walking, lizard-like whilst climbing."
Cast
Mili Avital as Scheherezade
Alan Bates as the Storyteller
James Frain as Schahzenan
Tcheky Karyo as Black Coda
Jason Scott Lee as Ali Baba
John Leguizamo as the Genie of the Ring and the Genie of the Lamp
Vanessa Mae as Princess Zobeide
Dougray Scott as Sharyar
Rufus Sewell as Ali Baba
Jim Carter as Ja'Far
Peter Guinness as Chief Executioner
Hugh Quarshie as Mustappa
Andy Serkis as Kasim
Burt Kwouk as Caliph Beder
Peter Bayliss as 1st Phsyician
Creature Shop Credits
Creature Artists: Hal Bertram, Nigel Booth, Aurelio Campa, Gary Careton, Nick Drew, Karen Halliwell, Tim Hill, Jeff Newton, Joelle Newton-Mold, Gary Pollard, Richard Smith, Sharon Smith, Mike Turloff, Mary Victoria, Val Wardlaw, Richard Wheeler
See also