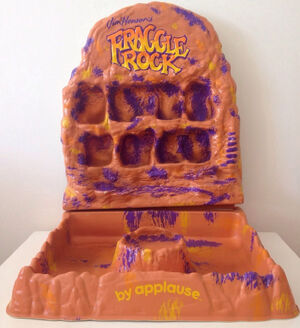 Applause released two sets of Fraggle Rock PVC figures.
A German company, Schleich, produced a set of 13 Fraggle figures in 1983. Applause released six of those figures in the US -- Gobo, Wembley, Red, Mokey and Boober, plus a Doozer on his lunch break.
In 1986, Applause produced a new set of six figures, all playing musical instruments:
Gobo, blowing on a saxophone full of musical notes
Red, shaking maracas
Wembley, holding a horn and a musical note
Boober, playing a recorder
Mokey, dancing
Red helmet Doozer playing a xylophone
Ad blocker interference detected!
Wikia is a free-to-use site that makes money from advertising. We have a modified experience for viewers using ad blockers

Wikia is not accessible if you've made further modifications. Remove the custom ad blocker rule(s) and the page will load as expected.